⬅ Return to collection
Limited : Modern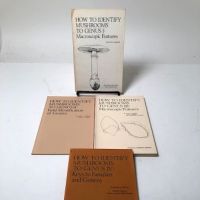 How to Identify Mushrooms to Genus I-IV Published by Mad River Press David Largent and Daniel Stuntz
How to Identify Mushrooms to Genus: I-IV (4 volumes)
Published by Mad River Press
By: David L. Largent and last volume by Daniel E. Stuntz
Soft Cover edition.
Synopsis.."This book explains and illustrates macroscopic features used in identifying mushrooms. Also included are a key to Friesian genera using only macroscopic features, an illustrated chart which separates genera according to general appearance and spore color, descriptions of the Friesian genera with comments and a list of modern genera under each, and a detailed glossary. B & W illus. A great beginning book for identification."
Mushrooms to Genus I: Macroscopic Features By David L. Largent Illustrated by Sharon Hadley 86 pages.
Condition: very fine with small stain on top left corner. Binding is tight with no damage inside and very light shelf mark.

Mushrooms to Genus II: Field Identification of Genera by David L. Largent. 32 pages.
Condition: very fine, almost in unused condition. No binding or writing inside.

How to Identify Mushroom to Genus III: Microscopic Features by David Largent and Roy Watling (consultant ) Illustrated by Kathryn Simpson. 148 pages.
Condition: Very fine with no damage to the binding, no writing inside. Cover has tiny edge bump on top left and back has small soil mark on the back.

How To Identify Mushrooms to Genus IV: Keys To Families and Genera by Daniel E. Stuntz. 94 pages.
Condition: Very fine with light soiling marks to the cover with small soil mark on top left. No writing inside or damage.
If you have any questions or if you need additional images, please feel free to email me.

Note:
shipping cost is for US only, if you are an over seas buyers please email me your shipping address to get a shipping quote.
Detail photos Click to enlarge