⬅ Return to collection
Punk : 1970-Contemporary
This item has been sold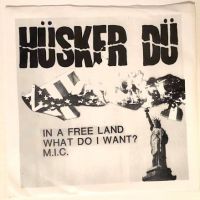 Husker Du In A Free Land on New Alliance Records – NAR 010 First Pressing from 1982 Near Mint Sleeve and Record
2nd Single Husker Du In a Free Land on New Alliance Records – NAR 010 Near Mint Sleeve and Record 1982
The Second single by Husker Du, In A Free Land on New Alliance Records NAR 010
New Alliance Records was the label founded in 1980 by Minutemen members D. Boon and Mike Watt, along with their friend Martin Tamburovich.
Again, the connection between Husker Du and The Minutemen was reciprocal, much like the early punk scene, both bands releasing each others single.
The 2nd single by Husker Du is even closer and further hinting what there was to come for the band. In these two tracks, the pop hooks were coming through even with the speed at which the band was moving toward.
Tracks are:
A In A Free Land 2:50 B1 What Do I Want? 1:16 B2 M.I.C. 1:07 Here is sound clip from the record:
Condition:
The Vinyl is NM-, no visible marks or hairlines with full shinny luster vinyl. No surface noise or skips, one of the best pressings I have heard, sounds clean as soon as needle goes on. The Sleeve is slightly below NM- only due to minor storage wrinkle on the top right and small bend on lower left. The back is almost perfect but top edge has slightly curled from storage. Please ask for images
If you have any questions or if you need more images please feel free to contact me.
NOTE:
The price listed is for US. If you are an overseas buyer please email me your shipping address before purchase to get a shipping quote.
Detail photos Click to enlarge