⬅ Return to collection
[uncategorized]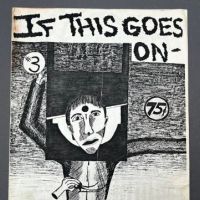 If This Goes On #3 1983 Sharon Cheslow and Colin Sears Zine
If This Goes On #3 1983
I believe this zine ran for only 3 issues, Edited by Sharon Cheslow and Colin Sears.
The zine was great, not just DC Punk but some great post punk record reviews, like Bauhaus, Style Council, Death In June and Twisted Nerve and more.
Interview with Minor Threat, Lucky Pierre (look up the Bouncing Babies Comp to listen and some great tracks by others!), On To Gel and Sort Sol.
Cover drawing by Colin Sears and with fantastic photos!
Size: 8 1/2 x 11
Condition: very good with light wrinkle on the edges from storage and top corner stain but does not effect the images or pages. Please see the images for more details.
If you have any questions or need additional information, please feel free to contact me.
Noted:
Over seas buyers please email me for shipping quote, please provide me with a shipping address and postal code.
Detail photos Click to enlarge