⬅ Return to collection
Art : Mid Century Design : Mid-century
This item has been sold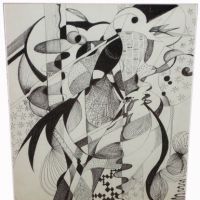 Image 1 Gladys Goldstein Original Pen and Ink Abrstraction 1950s Futurist
A large portfolio collection of 1957 original pen and inks of Gladys Goldstein has come into the store.
Most of the pen and inks are dated and signed by the artist from circa 1950's. Almost every piece shows the skill this artist had. The lines are continuous and are executed with precision showing her almost stream of consciousness/ automatic drawings in an Expressionist Futurist Abstraction style.
Each piece I have is an original, some are framed and others are loose pages. If you are interested in more, I will email you or wait, I will post more on the site.
Gladys Goldstein was a Baltimore artist, 1918-2010 who started out painting and drawing as a naturalist and changed to a more abstract representation of nature and her surroundings.
She is quoted, "The negative space seemed so much more important than the positive," she said. "I began to see differently and to think differently. So I began to paint abstractly."

Image 1: Abstract Pen and Iink
Signed and dated lower right, dated 1952

Size: framed 12 x 15 inches
each page is from a sketch book and is approx 11 x 14

If you have any questions or need additional images, please feel free to contact me.
Detail photos Click to enlarge