⬅ Return to collection
[uncategorized]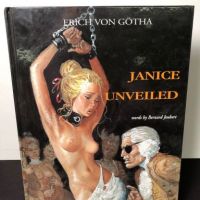 Janice Unveiled The Art of Erich Von Gotha Words by Bernard Joubert Hardback Published by Priamprism Press Last Gasp Press 1999
Janice Unveiled: The Art of Erich Von Gotha
Words by Bernard Joubert
Year: September 1999 1st edition
Publisher: Priamprism Press( Last Gasp Press) of San Francisco
Hardback with black and white and some color illustrations by the artist, Erich von Gotha, pseudonym of the British illustrator and comic book artist Robin Ray. Born in 1924, his art took off around 1980 with illustrations of Erotic text of De Sade.
Size: 9 3/4 x 13
Condition: Fine and minimal signs of use to the binding. the Cover and back are both in excellent condition with the top of the spine showing a small bump. The Inside, first page has very light water marks but is very minor. The next three pages at the very top edge has a small and tiny chip. The rest of the book is very fine, please see the images for more details.
If you have any questions or if you need more images please feel free to contact me.
NOTE:
The price listed is for US. If you are an overseas buyer please email me your shipping address before purchase to get a shipping quote.
Detail photos Click to enlarge