⬅ Return to collection
[uncategorized]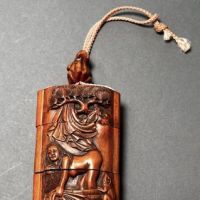 Japanese Erotica Into Box with Frog Ojime Wood Circa 20th C. Nude Woman Baths
20th C. Japanese Erotica Into Box with Frog Ojime.
The Japanese call their erotica, Shunga and this inro set done in the 20th c. shows a woman bathing with a frog looking up to her and the other side shows the woman washing her hair and the frog looks up to her.
The inro, is "a traditional Japanese case for holding small objects, suspended from the obi (sash) worn around the waist when wearing a kimono." The ojime is the small piece attached to the cord of the inro, " is a bead used in Japanese inrō (carrying cases). It is typically under an inch in length. Each is carved into a particular shape and image, similar to the netsuke, though smaller. It is used to fasten the cord of the inrō so that it does not unstack while carried."
The inro and ojime are both carved from wood.
condition: very fine with no damage or marks. The piece was bought and stored for over 40 years.
Size: inro is 3 1/2 inches long and the ojime is 1"
Please feel free to email me for more images or if you have any questions.
NOTE:
International orders, please email me your shipping address before purchase with your address to get a shipping quote. The shipping price is for US buyers only.
Detail photos Click to enlarge