⬅ Return to collection
Antique Accessories : 1800s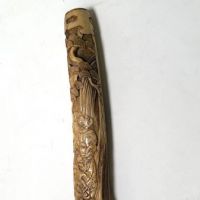 Japanese Kiseru zutsu Pipe-Case Carved Antler Circa Late 19th C.
apanese Kiseru zutsu Pipe-Case Carved Antler Circa Late 19th C.
A "Kiseru zutsu" is a term used pipe-cases in Japan . These carved pieces, sometimes out of bone, antler or wood, would hold the small tobacco pipe inside. The tobacco would be stored in a small pouch and the pieces would be linked, tied together. You can see the small natural carved This would be together in the sagemono.
"Sagemono is a collective term describing all types of containers and pouches that could be suspended from one's belt, which were often accompanied by a cord fastener (ojime) and a toggle (netsuke). Inro. Inro are small containers that could be roughly described as the handbags or pouches of ancient Japan."
This small scene of a man pulling his Ox, looks up into the trees. Not in fear but in just enjoying life or longing for another place or time. In the tree area, the carved out leaves, you can see how the artist left a nature cord holder for the silk cord to attach to the tobacco pouch. The backside of the antler, is more of night scene, you can see the bird flying but the natural dark areas is left to create the feeling of a dark cloud.
A very finely carved antler and appears to be circa late 19th c.
Condition: the patina is a beautiful natural patina, even from being stored in a drawer for the last 20+years. No top to the pipe case and it appears that maybe this was used later as an Umbrella handle, you can see wood shims inside the antler which is very smooth inside. A small part of the antler at the bottom has caved in slightly, not cracked but is a small damage area. Please see the images for more details.
Size: 8" long
Note:
shipping cost is for US only, if you are an over seas buyers please email me your shipping address to get a shipping quote.
Detail photos Click to enlarge