⬅ Return to collection
Art : 1800s
This item has been sold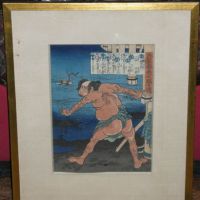 Japanese Woodblock by Utagawa Yoshitora Active 1850-1880
An important pupil of Utagawa Kuniyoshi who excelled in prints of warriors and kabuki actors, Yoshitora has an almost recognizable styles.
Here I have a framed woodblock by Yoshitora that was from a Diptych or Triptych, either way this one scene stands well by itself.
The colors are still bold and strong and luckily the signature of Yoshitora is visible on the left side.
The woodblock has been trimmed so non of the original boarder available. The back label gives the name of the artist, the series from which this is from and region of artist.
The Frame is approx. 12 1/2" x 15 1/2", the image is approx. 7" x 9"
If you have any questions or need additional information, please feel free to contact me.

Detail photos Click to enlarge