⬅ Return to collection
Mid-century
This item has been sold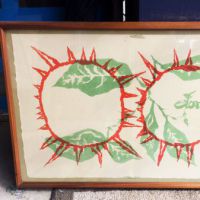 Jean Lurcat Domaine Framed Lithograph from the Folio Series 1957
A lithograph from Jean Lurcat's Domaine (bk with works; in-folio)
Year: 1957
Color lithograph on paper
Untrimmed

Size: 21 1/2 x 14 1/4 page
24 1/2 x 16 1/2 framed

Condition: Fine. The piece has been folded, since this was the part of a larger folio set. The piece has been framed and is in it's original frame. Please see the images for details.

"Jean Lurçat was a French artist and weaver credited with bringing tapestries back into contemporary popularity. His works often featured recurring motifs such as nature, animals, and the cosmos, becoming increasingly ambitious and detailed over time. One of his most famous works, The Eighth Tapestry of the World's Song (1957–1966), depicts an entire cosmology of ancient world mythical figures. He was born on July 1, 1892 in Bruyeres, France, and studied at the Académie Colarossi where his classmates included Henri Matisse, Paul Cézanne, and Pierre-Auguste Renoir. In 1915, he participated in his first exhibition in Zürich, and in 1917, completed Filles Vertes and Soirée dans Grenade—his first major tapestry work. During the 1920s, the artist traveled around Europe, North Africa, and parts of Asia, making tapestries along the way on commission and becoming one of the first Western artists to exhibit in Soviet Russia. Lurçat died on January 6, 1966 in Saint-Paul de Vence, France."
Detail photos Click to enlarge