⬅ Return to collection
Art : Medical & Oddities : 1900-1940s
This item has been sold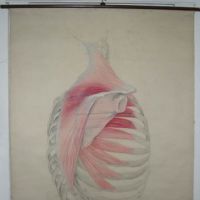 Jeanet Dreskin Orignal Colored Pencil and Graphite Anatomy Drawing Circa 1940s
Jeanet Dreskin:

A native of New Orleans, Louisiana, Jeanet Steckler Dreskin, born 1921, has spent the majority of her professional career as painter, printmaker, and educator in Greenville, South Carolina. For four years, 1938 to 1942, she studied with Will Henry Stevens and Xavier Gonzalez at Newcomb College of Tulane University, and anatomy in night classes with John McCrady.
Now her paintings are in the permanent collection of the Greenville County Museum of Art, Greenville, S.C.; National Museum of American Art, Washington DC; the Georgia Museum of Art, Athens, GA; the E. Hampton Museum, NY; the Zimmerli Museum, New Brunswick, NJ; the Gibbes Museum, Charleston, SC; SC State Art Collection; Texas Art Association Collection, Austin, Texas; Imperial Chemicals, Manchester, England; J. Strobel of W. Sohne, Munich, Germany etc.

I will be posting two original colored pencil and graphite Anatomy drawings on paper mounted to linen. Both pieces are original and are a unique piece of the both the artist and the history of medical illustration.
Here is a an amazing approx. 66" x 40" piece by Jeanet Dreskin of a side view of the Torso area showing the muscular and directional movement of the arm/ shoulder. The piece is signed, lower right below the rib cage.
Condition: Some graphite smudges and some small areas where art has been bumped.
If you have any questioned or need additional images, please feel free to email me.




Detail photos Click to enlarge