⬅ Return to collection
[uncategorized]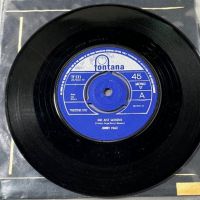 Jimmy Page She Just Satisfies b/w Keep Moving on Fontana UK Pressing 1965 Freak Beat w/ Factory Sleeve
Jimmy Page She Just Satisfies b/w Keep Moving on Fontana TF 533 UK press with 3 pin center.
Jimmy Page's first single released in 1965, Page sings and does what he does best, the A side is a great hard Mod Freak Beat style song. The B side is a prelude to what would he would be doing a few years later.
A great and rare single!
SIDE 1

SIDE 2


Condition: Vinyl is low VG+, has light marks on both sides but very light. SIDE 1 plays with very light and sometimes heard crackle, but very minor and low. SIDE 2 plays slightly cleaner and at high Vg+. No tracking issues on either side. Labels are high VG+, SIDE 1 has slight dulling of silver, flip is fine. Sleeve is factory Fontana, low Vg+, light wrinkle to both sides, one side has small abrasion on top right.
If you have any questions or if you need additional images, please feel free to email me.

Note:
shipping cost is for US only, if you are an over seas buyers please email me your shipping address to get a shipping quote.
Detail photos Click to enlarge