⬅ Return to collection
Art : Medical & Oddities : 1800s
This item has been sold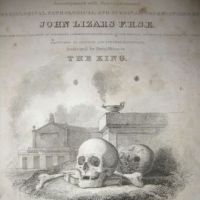 JOHN LIZARS 1822 A System of Anatomical Plates of the Human Body Edinburgh 1st Ed.
*NEW PRICE*


John Lizars was a Scottish surgeon and anatomist. He was professor of surgery at the Royal College of Surgeons of Edinburgh and senior surgeon at the Royal Infirmary of Edinburgh.
His book on Anatomical Plates is considered to be on of the best works of medical illustrations of the 19th Century.
Originally issued as twelve parts, and later bound in this large folio. This is one of the best and detailed pieces of 19th C. anatomical art.

Original 1st Ed. of A System of Anatomical Plates of the Human Body by John Lizars, 1822


Contents states original 12 parts, totaling 101 plates, this is missing 5 plates at the very end, Section 12 plates 9-13
The binding is bound and detailed with Moroccan Leather on the spine and edges, with Gold Embossed Lettering.
The edges of the pages retain original marbling from previous binding.

Recently rebound by a professional book binder this year, with each page having tissue paper to preserve the plates. Binders label is located on inside of the back endboard.


If you have any questions or need additional images, please feel free to email me.

Detail photos Click to enlarge