⬅ Return to collection
Art : 1800s
This item has been sold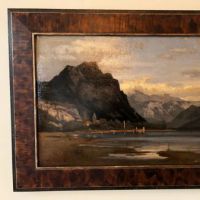 John Robinson Tait Oil on Board Munich School Painter Landscape Painter Baltimore MD
John R.Tait. "Lake of Wallenstadt," oil on board
Signed Lower left: J. R. Tait


"John Robinson Tait (January 14, 1834, Cincinnati - July 29, 1909, Baltimore) was an American landscape painter, art critic, and travel writer. He spent many years in Germany, where he was associated with the Düsseldorfer Malerschule and the Munich School."

The back is sealed but transcription on paper states sent to Exhibition for Artist Sketches by John Tait, who died in Baltimore in 1909 and also states that the title of the painting is "Lake Wallenstadt"
(Walenstadt is a municipality in the Wahlkreis (constituency) of Sarganserland in the canton of St. Gallen in Switzerland. It is located on Lake Walen (also known as "Lake Walenstadt")

The painting is a evening light descending on the mountains of Switzerland at the Lake. The lake grass in the foreground with the snow covered mountains in the distance and the orange dusk colored clouds frame this nice landscape. As you can see , this painting fits into the style of this late period Romantic Art movement.

"Düsseldorf school of painting refers to a group of painters who taught or studied at the Düsseldorf Academy (now the Staatliche Kunstakademie Düsseldorf or Düsseldorf State Art Academy) in the 1830s and 1840s, when the Academy was directed by the painter Wilhelm von Schadow.[1] The work of the Düsseldorf School is characterized by finely detailed yet fanciful landscapes, often with religious or allegorical stories set in the landscapes. Leading members of the Düsseldorf School advocated "plein air painting", and tended to use a palette with relatively subdued and even colors. The Düsseldorf School grew out of and was a part of the German Romantic movement. Prominent members of the Düsselorf School included von Schadow, Karl Friedrich Lessing, Johann Wilhelm Schirmer, Andreas Achenbach, Hans Fredrik Gude, Oswald Achenbach, and Adolf Schrödter."

Size: 12 1/2 x 18 1/2 in., framed
Condition: Fine, no marks or breaks can be seen on the board. The Varnish has yellowed and will need to be cleaned. Please see images for detail

If you have any questions or if you need additional images, please feel free to contact me.

NOTE:
If you are an over seas buyer, please contact me before purchase to get a shipping quote. I will need your shipping address to get you a detailed and accurate quote.





Detail photos Click to enlarge