⬅ Return to collection
Art : Mid-century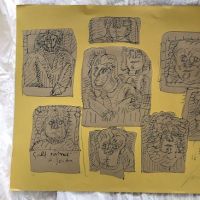 Jose Cuevas Serigraphs 1972 5/100 From UNAM Museum Folio Latin American Art Socialist
Artist: Jose Cuevas
Year: 6/16/72
Number: 5/100
Medium: Serigraph
Title: Londre
Attribute: signed in the plate and signed in pencil lower right with date and hand numbered lower left. Please see images for details.

Size: Coming Soon
Condition: near perfect with minor bump on the top center area, please see images for details. Lower left has a slight bend to corner.

These serigraphs, originally from the folio and all the serigraphs have all the same number out of the limited edition of 100.
The estate, who bought them in Mexico at the museum, UNAM said they were created to sell to raise money for this amazing institution, circa 1972.
My estate got these circa late 1980's while in Mexico performing and was gifted these from a close friend.

Bio:
UNAM: National Autonomous University of Mexico
UNAM's campus is a UNESCO World Heritage site that was designed by some of Mexico's best-known architects of the 20th century. Murals in the main campus were painted by some of the most recognized artists in Mexican history, such as Diego Rivera and David Alfaro Siqueiros.
UNAM founded, in its modern form, on 22 September 1910 by Justo Sierra as a liberal alternative to its predecessor, the Royal and Pontifical University of Mexico. UNAM obtained its autonomy from the government in 1929. This has given the university the freedom to define its own curriculum and manage its own budget without interference from the government.
UNAM was the birthplace of the student movement of 1968, which turned into a nationwide rebellion against autocratic rule and began Mexico's three-decade journey toward democracy.


Untitled: A Portfolio of Ten Works
Each a serigraph, featuring works by José Cuevas, Helen Escobedo, Manuel Felguerez, Gunther Gerzso, Gilberto Navarro, Brian Nissen, Vicente Rojo, Kazuya Sakai, David Siqueiros and Francisco Toledo, each signed and numbered in pencil, published by Museo Universitario de Ciencias y Arte, Universidad Nacional Autonoma de Mexico, 1973
The original folio had these artist:
1. Cuevas
2. Navarro
3. Siqueiros
4. Escobedo
5. Felguarez
6. Gerzco
7. Nissen
8. Rojo
9. Sakai
10. Toledo

If you have any questions or if you need additional images, please feel free to email me.
Note:
shipping cost is for US only, if you are an over seas buyers please email me your shipping address to get a shipping quote.

Detail photos Click to enlarge