⬅ Return to collection
Mid-century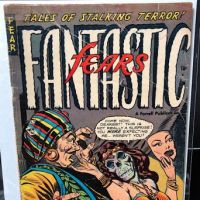 July 1953 Fantastic Fears # 2 July Published by Farrel Press Precode Horror Comic
**Sames Estate as the other Pre Code Comics listed**
Title: Fantastic Fears # 2
Date: July 1953
Pub by Farrel Press
"Fiends from the Crypt"; Chasing a thief named Banco into the Rome sewers, Signor Renzi and his partner, Pietro find Banco with all his body eaten; They try to escape the sewer, and find themselves hunted by the Green Horde. "Little Red Riding Hood and the Big Bad Werewolf"; The Old Crone, saying she's the real grandmother of Little Red Riding Hood, tells the true story; Elmer Dowd turns into a werewolf; As a werewolf, he attacks Red Riding Hood. "Careless Corpse"; Dave Tibbets leaves his wife Becky so he can go to work; He crashes his car and dies; Not realizing he looks like death warmed over, he encounters a lot of people who do realize he looks that way as he heads for home. "Carnival of Terror"; Chun, the Snake Charmer, who charms cobras with his flute, stays with the carnival he despises only to stay near Millie Sears; He reveals his attraction to Millie, who laughs; Joe has Millie tell Chun she'd go with him, and he shows her where his money's hidden; Chun shows her the money, which is kept protected in the cobra cage; Joe and Millie go to steal the money. 36 pgs."
Condition: The cover has a fold line on the top 1/3 of cover with wrinkles and some rubbing. Pulling at the staples and wear and rubbing to spine edge. Corners have bumps and top left spine edge has small tear. No Tape but old tape stain on the top and bottom left side and also on the back. Back has edge tear at the middle, stain on the top and bottom spine edge and some soiling from storage. Inside of front cover the cover is attached but very weak. Binding is fine with light signs of use but pages are very clean and no damage or writing inside.
If you have any questions or need additional information, please feel free to contact me.
Noted:
Over seas buyers please email me for shipping quote, please provide me with a shipping address and postal code.
Detail photos Click to enlarge