⬅ Return to collection
Jewelry : Medical & Oddities : 1800s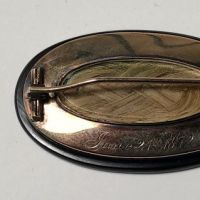 June 24th 1872 Mourning Pin Black Jet Front and 14K Gold Back with Hair Art Design
The Victorian era had way to honor their loved ones. The movement grew during the Renaissance revival period, bringing the idea of pure love and classical concepts of the love beauty and death was at it's core. The era where love and poetry were the currency of the arts and literature of the day, the flip side of this was of course death. How could you love someone so much in life and not love them and adore them after they passed. This is of course a shortened description of this sometimes fast moving period.
When someone passed the practice of memorializing and remembering was needed. Women especially where expected to mourn for a period of time. One was the Tear Vile, filling a vile with tears and once the tears dried, the mourning period was over. Another amazing and longer period was the Mourning Jewelry. Typical, the woman would weave hair of their love and or departed love one.
In this amazing and dated pin we have the Black Glass front, showing loss and death and the back, encased in gold and behind glass is hair, wrapped and weaved . The simple act was a to remember and to always carry the love they had for the person in life and in death.

The oval pin has polished and fully black Jet.
"Jet—fossilized driftwood similar to coal— is hard, black or dark brown in color, and found primarily in Yorkshire, England, Spain, France's Aude region, Germany, and other parts of northern Europe, Asia, and North America. Often referred to as "Whitby jet," many souvenirs and mourning pieces made of this substance were carved and sold in this English town during the peak of its popularity."
The Oval pin is marked on the pin clasp, 14K gold. The gold bevel is etched with the date of June 24 1872. The hair is flat weaved and is protected by a small piece of beveled glass. The Jet is an oval shape and is attached to the gold bevel.
The pin is a long pin and has a sturdy clasp to hold the pin in place.
Size: 2 x 1 x 3/16 inches
Condition: the Jet is in very nice condition, a high polish and very smooth and no visible chips to the edges. The back is in very fine condition with slight marks to the gold from age and use. The glass is intact and is not broken. The Pin does have some minor bends but is stable. Please se the image provided for more details.
If you have any questions or if you need more images please feel free to contact me.
NOTE:
The price listed is for US. If you are an overseas buyer please email me your shipping address before purchase to get a shipping quote.
Detail photos Click to enlarge