⬅ Return to collection
Mid-century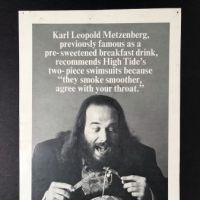 Karl Leopold Metzenberg Advertising High Tide of California Clothing Circa 70's Mod and Psychedelic Clothing
Karl Leopold Metzenberg was a cultural figure in the 60's and 70's and was key figure in the Laurel Canyon scene.
He created the first Italian Coffeehouse in Portland in 1958, catering to the beat poet and counter culture figures of the 50's with books and folk crowd.
Metzenberg moved to Los Angeles California in 1960, .." where he opened Book Bargain Center in Westwood Village, which became a '60s cultural hot spot. He purchased three acres in Laurel Canyon with two friends and built what they called "the compound." Karl worked as a story analyst in the motion picture industry at both Paramount Pictures and MGM, including five years on Star Trek.
In Metzenberg's next step, he took to his connections and started to photograph musicians in and around his Laurel Canyon compound and did the the cover for Jackson Borwn's album Running on Empty.
This is a great Ad Page for the clothing company High Tide of California, they made pychadelic and mod bathing suits and dresses for the hip in the late 1960's to the 70's.
The Ad with Metzenberg eating a bikini has bottom information of Factory & General Office. Please see the images of the details.
Year: circa 1970
Size: 12 x 18 1/2 inches
Condition: small holes in the corners and light aging to the paper at the top margins. A small mark on his face, only seen at an angle. Please see the images for more details.
If you have any questions or if you need additional images, please feel free to contact me.
Note:
Over seas buyers please contact me before purchase with postal code to get a shipping quote. Shipping cost posted is for Domestic shipping only.
Detail photos Click to enlarge