⬅ Return to collection
1st Edition : Modern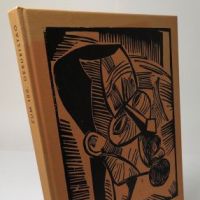 Karl Schmidt-Rottluff Rottluff zum Einhundertsten Geburtstag December 1984-April 1985 Numbered With Printed Card Hardback
Karl Schmidt-Rottluff Rottluff zum Einhundertsten Geburtstag Book Numbered 1170 with card hardcover with printed woodblock cover.
Karl Schmidt-Rottluff, a german expressionist painted and printmaker and one of the key and founding members of the German Art Group Die Brucke. The Group name meant, "The Bridge" which was mean to bridge the old world of printing and folk subject and bridge in the new order of Expressionism.
In this catalogue the, translates to: "Karl Schmidt-Rottluff on his hundredth birthday. Woodcuts, Lithographs, Etchings. Memorial Exhibition Dec. 1, 1984 - April 2, 1985; Gallery Nierendorf Berlin."
The book is numbered with the original card matching the printing number on the last page.
Stamped Numbered 1170
The first half is woodblock printed versions of his works with the last half having glossy paper photographs of his works. A wonderful book on this German Expressionist Artist.
Size: 8 1/2 x 12 inches
Condition: Near perfect with slight bottom edge spine bump. Please see the images for details.
If you have any questions, please feel free to contact me.
NOTE:
The Shipping price is for US buyers only, over seas buyers please contact me before purchase with your shipping address to get a shipping quote.
Detail photos Click to enlarge