⬅ Return to collection
Art : Culture : Vintage
This item has been sold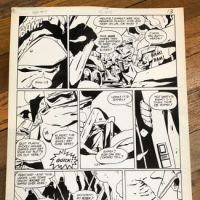 Keith Giffen and Carlos Garzon Art for Hex # 18 DC Comic 1987 Original Art Stamped Pg 9
Hex #18 Original Art for the 1987 DC Comic
"Jonah Woodson Hex is a western comic book antihero appearing in comic books published in the USA by DC Comics. The character was created by writer John Albano and artist Tony DeZuniga. Hex is a surly and cynical bounty hunter whose face is horribly scarred on the right side. Despite his poor reputation and personality, Hex is bound by a personal code of honor to protect and avenge the innocent."

Hex (1985-1987 DC) #18
Published Feb 1987 by DC
The last Hex story! Destined to be a classic! In this series' spectacular final issue, Hex finds himself hunted by a bloodthirsty gang while he confronts his past and his ultimate, chilling fate! "Thanksgiving" is written by Michael Fleisher, with art and cover by Keith Giffen and Carlos Garzon.

The original art is done on Artist Comic board. You can see the pencil under the ink and in areas you can see white out correction in areas. At the bottom right you can it is from page 9. Stamped on the back with DC Comic stamp. Please see the images for details.

Size: 11 x 17 inches
Condition: in very good condition with minor artist smudge and wear. No tears or damage to the board. The stamp on the back is light stamp, so it is hard to read.

Detail photos Click to enlarge