⬅ Return to collection
1st Edition : Modern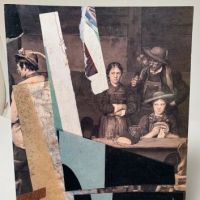 Kurt Schwitters Catalogue for Seibu Museum of Art Tokyo Japan 1983 Soft Cover Full Color and Black and White Images
Kurt Schwitters 1983 Catalogue The Seibu Museum of Art 1983 Softcover 1st Edition in Near Perfect Condition
Title: Kurt Schwitters
Publisher: The Seibu Museum of Art
Year: 1983
Edition: 1st edition Soft Cover
Text is in Japanese
This Full Color and some Black and White images of the amazing art of Kurt Schwitters. 190 pages of images of items from Ernst Schwitters and many of contributors. If you are not familiar with Schwitters work, he was part of the German Dada movement, his use of cut up technique and assemblage art was a life style. He built and lived in a world in which he created Merz. There are images of his house that he converted the interior to his assemblage art. Most of his art during the outbreak of WWII was destroyed and lost, only images and memories were left. Along with many other Dada and Surrealist artist, Schwitters was considered a Degenerate Artist a label applied to many artist of the Nazis. A frightening time and in many ways and so sad, we are back to this fervor.
Size: 8 1/2 x 11 1/2 inches
Condition: very good with only slight signs of use. Pencil price on the first page. The binding is tight and in very good condition. The cover has a small lower left edge bump and slight edge wear from storage. Please ask for images for more details.
If you have any questions or if you need more images please feel free to contact me.
NOTE:
The price listed is for US. If you are an overseas buyer please email me your shipping address before purchase to get a shipping quote.
Detail photos Click to enlarge