⬅ Return to collection
Mid-century
This item has been sold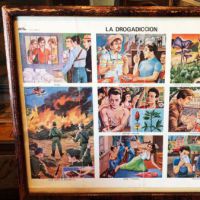 La Drogadiccion No. 923 Mini Poster of Drug Addiction Best Images
I have seen some fun and outrageous posters and ads before but this one!! Wow!
La Drogadiccion
I cant decide which image is the best, the kids doing Inhalantes, the Plantas Alucinogehas ( check the evil living tree!).

Size: 9 1/2" x 12"
Condition:the page has been folded three times, visible crease marks. The glass to the frame is broken on the top right. The Frame is worn.

Note:
To protect the image, I recommend shipping without the glass which will also decrease the shipping costs.

If you have any questions or if you need additional images, please feel free to email me.
Detail photos Click to enlarge