⬅ Return to collection
[uncategorized]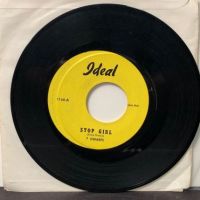 Lancaster PA Garage Single 7 Dwarfs Stop Girl on Ideal 1168 Original Pressing 1966
7 Dwarfs Stop Girl on Ideal 1168.
The band's one and only single on Ideal, both label and band's only release. This 1966 garage single from Lancaster PA, the band.
This is the original single and not the reissue that you see, one tell sign was the off center label. The band must of been so made and upset but that is what it was. Probably only a few hundred and made and I am sure all have off center labels. This one the song ends right before the label, so it does not affect the song!!
The song, what is there to say, one of the top garage singles, with all you need. What was it about PA and their garage bands, rival Texas with great garage singles.
Listen Here
SIDE 1

SIDE 2


Condition: Vinyl is high VG+, sounds great as soon as the needle goes on. SIDE B plays about equal, a very slight crackle below the music and faint. NOTE all original pressings have off center labels. Both sides track fine, SIDE 1 fades out fine and song finishes before label becomes problem. Sleeve is generic white.
If you have any question or need additional images, please feel free to contact me.
NOTE:
International orders. Shipping will be $18. Please contact me before purchase if you are an International buyer. I will need to adjust the shipping price to reflect a correct shipping cost to you.
Detail photos Click to enlarge