⬅ Return to collection
Folk Art & Outsider Art : 1900-1940s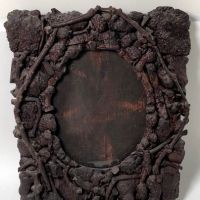 Large Circa 1900 Folk Art Frame North East Appalachian Mountains Bark and Bent Wood Design
A bent wood folk art frame, not just your average and run of the mill folk art frame but this one has what you want in your one of a kind frames. The estate is from the estate coast and from the Appalachian area, so it makes sense this knotted wood branches and bark would make the perfect frame.
Most of your folk art frames use what is around them, objects close at hand and the Appalachian mountains supply you with all that you will need.
The frame is layered with thick bark and accented with sticks, bent and wrapped on mounted on a square body frame. The Finish is a dark patina and looks to be mixture of shellac and dark shoe polish or dark pigment. With the folk art tradition, using what you have around you is lesson 101, dark shoe polish would be close at hand and also will be the cheapest and easiest to use.
The shoe polish suspended in Shellac, the a aging of the shellac is always a beautiful attribute.
The frame has an oval picture frame and has the old glass, please see the images I have provided and please feel free to ask for more pictures if you need them.
Size: 12 1/2 x 16 inches
Condition: Very fine with slight wear in spots to the finish, no visible breaks or damage can be seen and includes the original glass. If you have any questions or need more images, please feel free to contact me.
Note:
shipping cost is for US only, if you are an over seas buyers please email me your shipping address to get a shipping quote.

I have added additional cost to the shipping based on the size and fragile nature of the frame. Extra protection will be needed for shipping.

Detail photos Click to enlarge