⬅ Return to collection
Art : Pottery : 1800s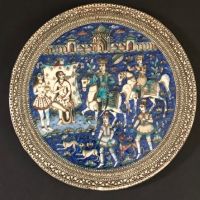 Large Round Qajar Underglaze Pottery Tile Circa 19th Century of Prince on Horseback with Nude Women
Qajar Underglaze Large Round Pottery Tile
Region: Iran
Year: 19th Century
Prince on horseback with two Nude Women on the left.

From the Metropolitan website: "Mainly produced in Tehran, the Qajar capital, continuous friezes of rectangular underglaze-painted tiles, such as this example, were common in nineteenth-century architecture."
Qajar refers to.."The Qajar dynasty was an Iranian royal dynasty of Turkic origin, specifically from the Qajar tribe, ruling over Iran from 1789 to 1925. The Qajar family took full control of Iran in 1794, deposing Lotf 'Ali Khan, the last Shah of the Zand dynasty, and re-asserted Iranian sovereignty over large parts of the Caucasus."

Size: 18.75 inches diameter and approximately 1.75 inches thick
Condition: the painting is beautiful with bold and strong colors. The elegant gradation of the blues are exquisite. The tile has been repaired, the client had the tile repaired, plaster with pigment on the front of the tile. The back of the tile has a section with fiberglass and filled with pigment. Please see the images of the repairs. Please see the images for details of the quality and the repair of the tile.


If you have any questions or need more images please feel free to contact me.
NOTE:
The price for shipping is for US buyers only. If you are an overseas buyer please contact me before purchase to get a shipping quote. Please provide me with your shipping address.
Detail photos Click to enlarge