⬅ Return to collection
Art : 1800s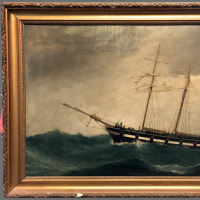 Last Quarter of 19th C. Tall Mast Brig Ship in Storm with Ripped Sails Oil on Canvas Not Signed
Mid to last Quarter 19th C. Brig Tall Mast Ship in Storm Ripped Sails Oil on Canvas
A lovely oil on canvas of a two mast ship, a Brig being tossed and weathering a violent storm. The sail on the center mast is torn and ripped as the winds and violent storm ravish the ship.
A Brig is.."defined by its rig: two masts which are both square-rigged. Brigs originated in the second half of the 18th century and were a common type of smaller merchant vessel or warship from then until the latter part of the 19th century." They were used as naval ships but largely used for Merchants in the 19th century.
The brig has a beautiful detail, the masthead shows prominently in the painting as well as the details on the mast and the rigging. A few figures can be seen but the style of these 19th c. painting, circa 1850's-1880's is the ship itself. The ship is not identified on the front but does make a point to the show the ship weathering the storm.
Unsigned, no visible signature can be seen, black light revealed no additional information.
The frame is original to my client, the frame has some chipping to the plaster molding in areas.
The Canvas has not been cleaned and there is some rubbing to the edges, rubbing of the painting on the frame. This will need to be addressed before shipping.
Size: Canvas is 30 x 20 inches
Condition: no holes in the canvas. Slight wear to the edges from rubbing on canvas against the frame. The painting has not been cleaned or altered. The frame has signs of wear and has plaster and detail loss in some areas. Please see the images for more details.
If you have any questions or if you need additional images, please feel free to email me.

Note:
shipping cost is for US only, if you are an over seas buyers please email me your shipping address to get a shipping quote.
Detail photos Click to enlarge