⬅ Return to collection
Antique Accessories : 1800s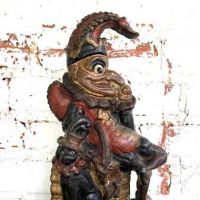 Late 1800's Circa Late Victorian era Painted Cast Iron Door Stop Depicting Punch and His Dog Toby
Late 1800's, circa late Victorian era Painted Cast Iron Door Stop Depicting Punch and His Dog Toby
Punch was part of the English Puppet duo Punch and Judy, Judy was the wife of Punch. The start of the characters goes as far back as 1600's. The shows.."spirit of outrageous comedy—often provoking shocked laughter—and are dominated by the anarchic clowning of Mr. Punch. Just as the Victorian version of the show drew on the morality of its day.."
This great cast iron painted doorstop shows not new colors but some original paint in areas with added paint in the high areas.
Size: 12" tall x 8 1/2" wide x 3 1/2" deep
Condition: very fine with no cracks or damage to the cast iron. The colors are still very bold and strong and the paint may been altered or changed at sometime before my client inherited the piece approx. 30-40 years ago. Please see the photos for more details and for a visual description.
If you have any questions or need more images please feel free to contact me.
NOTE:
The price for shipping is for US buyers only. If you are an overseas buyer please contact me before purchase to get a shipping quote. Please provide me with your shipping address.
Detail photos Click to enlarge