⬅ Return to collection
Antique Furniture : 1900-1940s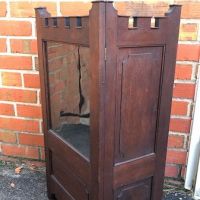 Late Victorian American Renaissance Revival Period Walnut Floor Cabinet with Glass Door Circa 1910 Gothic Style
A Walnut, very late Victorian or early American Arts and Crafts period Glass Front Floor Cabinet.
The Revival periods, Renaissance Revival period was in and a part of the late Victorian period, depending on if you are in America or Europe, dates seem to move a bit but in there was the Arts and Crafts period. Again different times based on what country but here in America it was early 1900's and the mixture of these styles produced some interesting styles but seemed to be able to work in harmony with each other. This is one of those pieces.
The cabinet has a part Gothic, a Renaissance Revival branch at the top castle like top. The use of Walnut wood was typical in the Renaissance revival period, the Arts and Crafts leaned towards oak but the the design has a strong Arts and Crafts feel.
The cabinet appears to be a table top or a floor type cabinet, a possible pipe storage case or small keep sake cabinet but regardless it is a great and multi use cabinet.
The glass on the door is original, it has the subtle ripple to the glass. The simple latch on the side is a hook and eye type.
One shelf inside and it a fixed type.
Size: 15.5 wide x 28 tall x 9.5 deep inches
Condition: The cabinet structure is sound and in very good condition. Minor wear to the outside from use and age. The cabinet will need to be oiled, I have not altered the cabinet. The top pieces has minor damage, a small break one of the battlements, others are loose and or slightly chipped. Please see the images provided for details and if you have any questions, please feel free to email me

No shipping has been applied to this item, it will require pick up from 21211 zip code or special delivery.
NOTE:
Due the size, these chairs will need special handling and delivery. Please contact me to arrange pick up or for a specialized shipper. Please email me your shipping address to get a delivery quote for purchase.


Detail photos Click to enlarge