⬅ Return to collection
Medical & Oddities : 1700s : 1800s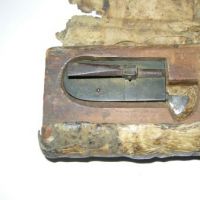 Late 1700's Early 1800's Fleam Lancet Bloodletting Phlebotomy With Case
A New estate has proved to be an interesting collection of Antique Civil War Era Medical instruments. Included in this collection will be different types of Lancets as well as a fine example of a Civil War Amputation set.
This lancet, most likely a very late 1700's to early 1800's model has no makers name. The construction is earlier style of iron construction and the stylized release also is a good indication this piece is early. The case is a made construction with warped treated cloth over a wood frame.

Condition: Vg with some wear from use and age.

If you have any questions, please feel free to contact me.

Detail photos Click to enlarge