⬅ Return to collection
Antique Accessories : Jewelry : 1800s
This item has been sold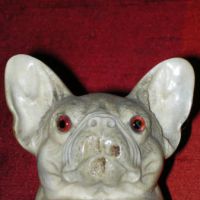 Late 1800s Carved Antler of French Bulldog with Silver Mounts by Smauel Jacobs on Walking Stick
A Very Special Collection of carved wood nutcrackers, Folk Art, Walking Sticks and other pieces will be up for sale.
A local collector has decided to downsize their amazing collection. I will note which pieces are coming from their collection and more items will be coming in soon. If you have interest in one more item or are interested in hearing about what is coming in, please contact me.

A circa late 1800's walking stick with carved antler French Bulldog head with English Silver band. The dog is carved from a piece of antler with inset glass eyes. The decorated silver band is stamped with English Sterling marks and date of 1895.
The shaft is a hardwood with a shellac finish.
Condition: some marks on the shaft, very minor. The carving is in very, almost near perfect condition. Some wear to the silver band.
Size: 35" long x 2" high carving, silver collar is 2" long.

The marks appear to read Sterling London (England) from 1895. The maker is not clear, but appears to be "Sj". If it is "SJ" then it might be Samuel Jacobs who was active in London from 1892-1916. By the look of the wear and style of walking stick, this could very well be the maker.
If you have any questions or need additional information, please feel free to contact me.


Detail photos Click to enlarge