⬅ Return to collection
Jewelry : 1800s
This item has been sold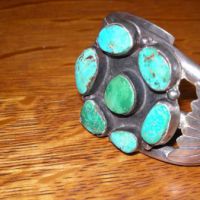 Late 1800's Native American Cuff Bracelet w/ Turquoise
From the Same collection as the Squash Blossom, here is an 1800's Cuff Bracelet with 7 turquoise stones.
The estate has this piece as marked 1810 with a n old price. They said they had this piece up for sale at store in the 1970's. That is whey there is a sticker price.
I believe this bracelet is an mid to later 1800's Coin Silver. The underside is rough which is a good indication of use of Coin. The piece is unsigned, but the due to age of the piece most are unsigned. As I stated in the other posting, the estate got a large collection from a family member who worked for the government in the 1930's-1940's in the South West.
The bracelet is approx: the inside measurements are 1 1/4" high x 2 1/2" wide.
This is an early and very nice Navajo Bracelet Cuff that has been in a private collection for 50 or more years.
Please email me with questions or if you need additional photographs.
Detail photos Click to enlarge