⬅ Return to collection
Advertising : Posters : Mid-century
This item has been sold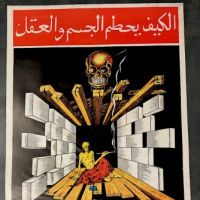 Very Rare Drug Poster Le Kif Détruit Le Corset L'esprit Poster Artist Benjelloun Anti Herion circa 1970s
Le Kif Détruit Le Corset L'esprit
Translate to "Kif destroys body and mind"
This Moroccan anti-Herion poster from the 1970's is rarely seen. The drug scene of Morocco has been written about and documented in the 20th century, William Burroughs and his books, Naked Lunch and Interzone take place in Tangiers and Burroughs drug use is well talked about along with Paul Bowles. Keith Richards and The Rolling Stones spent time there, indulging in the illicit activities, not to mention the travels and writings of Mark Twain and Edith Wharton but who knows if they indulged in the use of the opium smoking.
The whole time, opium smoking is illegal in the country and by the 1970's the anti drug use and trying to stop the promotion of the drug was well in swing.
This rare poster is Le Kif Détruit Le Corset L'esprit and shows a opium smoking man trapped in a psychedelic trip with death high above. You can see the man in the decayed, destroyed life of opium smoking surrounded and trapped.
The artist is accredited to Benjelloun, the poster is not signed but other online sources site the artist of this poster.
Size: 17 x 24 inches
Condition: Very fine with light staining at the margins of the poster, light foxing to the paper. A small wrinkle/ abrasion is on the top left side in the Arabic writing. Slight wrinkle to the paper but over all in Excellent condition. Please see the images for more details.
If you have any questions or if you need additional images, please feel free to contact me.
NOTE:
International orders, please email me your shipping address before purchase with your address to get a shipping quote. The shipping price is for US buyers only.
Detail photos Click to enlarge