⬅ Return to collection
Art : 1900-1940s
This item has been sold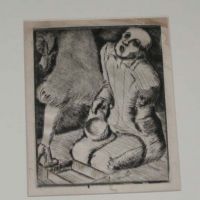 Leontine Tintner Camprubi (1916-1994) Dry Point Engraving of "Beggar"
Leontine Tintner Camprubi (1916-1994) dry point engraving is signed on the reverse in a light blue stamp. This print is one of departure, her work mostly reflecting more surreal scenes. A recent sale,an oil painting of a working women is more in line with the subject of this piece, despair of the working class and the down and out. Both these pieces share a WPA subject and feeling.
A Beggar kneeling on the ground has a bowl held out as a women passes by with out a care or notice. A very strong subject augmented by the style of this WPA style dry point engraving.
The image is approx. 4 1/2" x 5 1/2" and the total size of the paper is 7 1/2" x 7 1/2". The engraving is stamped signed on the back of the paper in a light blue ink.
There is some water damage on the paper. The top and bottom of the paper shows water staining, but the image has minor damage. There is some minor damage on the top right and lower right corners.
If you have any questions or if you need additional images please contact me.
NOTE:
The estate has another piece that will also be for sale.
Detail photos Click to enlarge