⬅ Return to collection
Art : 1900-1940s
This item has been sold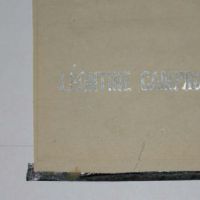 Leontine Tintner Camprubi (1916-1994) Stamped Signed Dry Point Engraving WPA Scene
Leontine Tintner Camprubi (1916-1994) dry point engraving is signed on the reverse in a light blue stamp. This print is one of departure, her work mostly reflecting more surreal scenes. A recent sale,an oil painting of a working women is more in line with the subject of this piece, despair of the working class and the down and out. Both these pieces share a WPA subject and feeling.
This piece, like the other one I have for sale has a scene of a youngish man sitting with his head hidden behind his hat between his knees. Giving a feel of a man given up or a person with nothing more to give or unable to deal with the reality of his life. The women behind him stands over him with her hands crossed holding her arms with a cat. Like the other engraving, this is a very strong subject augmented by the style of this WPA dry point engraving.
The total size of the paper is 7 1/4" x 5 1/2". The engraving is stamped signed on the back of the paper in a light blue ink.
The over all condition is very good with the signature stamp strong and bold.
If you have any questions or if you need additional images please contact me.
Detail photos Click to enlarge