⬅ Return to collection
Advertising : Lithographs : Posters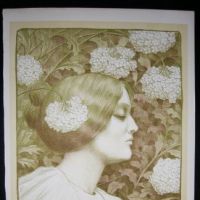 Les Maitre de L'Affiches Series Special Drawing by Paul Berthon 1900 Issue 52
A new client has given me the wonderful opportunity to sell his collection of Maitres de L'Affiche lithographs of French Poster Art.
Maitres de L'Affiche was created by Jules Chéret and represents one of the most decorative and monumental collection of the art from the Belle Époque of Paris, France.
Each plate is stamped, lower right with the embossed blind stamp and marked lower left with plate number and Imprimerie Chaix (The Printer) Encres Lorilleux & Cie.
The complete edition of lithographs is 240 posters and 16 Special plates (or bonus plates) which were issued to subscribers.
Each pages measures approx. 11 3/8 in. x 15 3/4 in. (29cm x 40cm)


Plate Number: Special Edition Bonus Plates 1900 for Issue 52
Artist: Paul Berthon
Condition: Strong colors, appears to have been trimmed on the left side


If you have any questions, please feel free to email me.
Detail photos Click to enlarge