⬅ Return to collection
[uncategorized]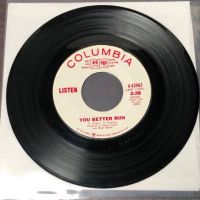 Listen You Better Run on Columbia 4-43967,White Label Promo Robert Plant's First Single
Listen You Better Run on Columbia 4-43967, White Label Promo.
Robert Plant's first recorded single, was this Mod Beat band called Listen. They had this one and only single in 1966. Two years later we all know what happened to Robert Plant.
A pretty good Mod Beat record
Listen Here
SIDE 1

SIDE 2

Condition: Vinyl is middle VG+, has some light marks but plays great, a faint and very low crackle below the music but no tracking issues. SIDE 2 plays slightly cleaner than SIDE 1.
Sleeve is generic white.
If you have any question or need additional images, please feel free to contact me.

NOTE:
International orders. Shipping will be $18. Please contact me before purchase if you are an International buyer. I will need to adjust the shipping price to reflect a correct shipping cost to you.
Detail photos Click to enlarge