⬅ Return to collection
Art : Medical & Oddities : 1900-1940s
This item has been sold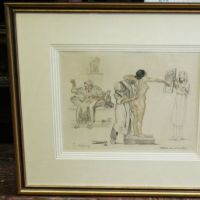 Lithograph by Gaston Hoffman Titled L'atelier Réparation Comical View Of Plastic Surgery
Framed and colored lithograph, '' de Réparation,'' by Gaston Hoffmann (French, 1883-?), penciled signed lower left side
copyright by Ch. Ducher, marked top right

One of Hoffmann's more bizarre comical illustrations. The great small creature coming out of the jar on the back shelf is most bizarre part of the image, and that says a lot about this piece.
As you can see, this is not for everyone but the right person will come along.

If you have any questions or need additional images, please feel free to contact me.


Detail photos Click to enlarge