⬅ Return to collection
Art : Folk Art & Outsider Art : 1900-1940s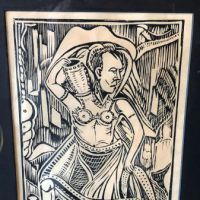 Louis Monza 1954 Numbered Edition 3/10 Linocut Jungle Dancer with Vase Outsider Artist
Louis Monza (1897 - 1984)

An amazing outsider artist with pieces in museums and galleries around the world.

Title: "Jungle Dancer with Vase"
Year: 1954
Edition: 3/10
Medium: Linocut (on the reverse is labeled as Linoprint)

"In 1946 Monza moved to California where he created prints and sculpture as well as drawings and paintings, all of which carried on a monologue of social and political commentary on topics ranging from technology and the arerospace industry to the effects of environmental pollution. The subject of a number of New York and California exhibitions both before and after his death, Monza also participated in many group exhibitions."

The item is framed behind glass any imperfections are from the photographing the piece with the glass.
NOTE:
For cheaper and safer shipping I will ship without the glass to help ensure safe delivery.

If you have any questions or if you need additional photos, please feel free to email.


Detail photos Click to enlarge