⬅ Return to collection
Art : Folk Art & Outsider Art : Mid-century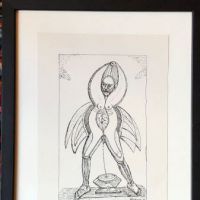 Louis Monza Original Pen and Ink Signed Monza 70 Outsider Artist 1970
Louis Monza (1897-1984)
Very similar to the grotesque and wonder images of people's of foreign lands, Nuremberg Chronicle's woodcuts remind you instantly of a Surrealist piece or an image in a Wunderkammer (Cabinet of Curiosities)
With that note, this is a piece of amazing outsider art, his inks are almost woodcut in execution but the wonder is present.
Titled "No Shame in Necessity"

Size: page is 7 3/4" x 11 1/2"
Condition: near perfect, professionally framed with original pencil title lower left.

Bio:
"Self-taught painter, sculptor and print maker Louis Monza was born in Turate, Italy, in 1897. At the age of seven, he was apprenticed to a wood carver and folk artisan. In 1913 he immigrated to the United States. After arriving in New York City, he held a variety of odd jobs including dishwasher at a restaurant and water boy for the Pennsylvania Railroad.
Athough he was a lifelong pacifist, Monza was inducted into the army in 1917 and served in World War I. Following the war he supported himself as a house painter until 1937, when he was injured in a fall. During his lengthy convalescence he began to create art, a path from which he did not deviate for the remainder of his life."
From the Smithsonian Art Museum Website:
"Louis Monza was a pacifist who also embraced radical socialist doctrines. His concern for the human condition is evident in his allegorical paintings executed during World War II. Characteristically, the painting's meaning is cryptic [ORCASTRA AT WAR, SAAM, 1986.65.131], since Monza preferred that viewers freely interpret his works. Monza was equally at ease when painting, drawing, sculpting, or making prints. His youthful apprenticeship to a master furniture carver and his exposure to northern Italy's painting traditions influenced the decorative detail, dramatic color, and volumetric, exaggerated forms of his later efforts. After emigrating to the United States in 1913, Monza began experimenting with different media. He did not devote himself to making art, however, until an accident in 1938 ended his occupation as a house painter. Three years later, his career as a regularly exhibited artist began in New York."
"Louis Monza apprenticed to a wood-carver in Italy when he was seven and traveled around the country, creating furniture for churches and homes. In 1913 he visited Geneva, where he heard rumors about the coming world war. He was a fervent pacifist and immigrated to America to escape service, but the United States Army drafted him and stationed him in Panama for two years. After the war, he settled in New York and worked as a housepainter until an accident in 1938 forced him to retire. He started to paint full-time and created many images inspired by the World Wars that emphasized his pacifist beliefs."
If you have any questions or if you need more photos, please feel free to contact me.

Detail photos Click to enlarge