⬅ Return to collection
Art : Folk Art & Outsider Art : Mid-century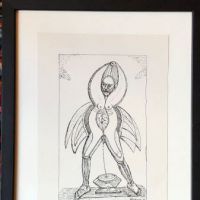 Louis Monza Original Pen and Ink Signed Monza 70 Outsider Artist 1970
Louis Monza (1897-1984)
Very similar to the grotesque and wonder images of people's of foreign lands, Nuremberg Chronicle's woodcuts remind you instantly of a Surrealist piece or an image in a Wunderkammer (Cabinet of Curiosities)
With that note, this is a piece of amazing outsider art, his inks are almost woodcut in execution but the wonder is present.
Titled "No Shame in Necessity"

Size: page is 7 3/4" x 11 1/2"
Condition: near perfect, professionally framed with original pencil title lower left.

Bio:
"Self-taught painter, sculptor and print maker Louis Monza was born in Turate, Italy, in 1897. At the age of seven, he was apprenticed to a wood carver and folk artisan. In 1913 he immigrated to the United States. After arriving in New York City, he held a variety of odd jobs including dishwasher at a restaurant and water boy for the Pennsylvania Railroad.
Athough he was a lifelong pacifist, Monza was inducted into the army in 1917 and served in World War I. Following the war he supported himself as a house painter until 1937, when he was injured in a fall. During his lengthy convalescence he began to create art, a path from which he did not deviate for the remainder of his life."

If you have any questions or if you need more photos, please feel free to contact me.

Detail photos Click to enlarge