⬅ Return to collection
Out Of Print : Modern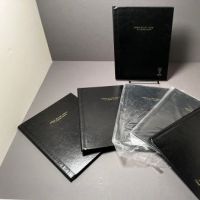 Magus Ritual Magic Vol. 1-4 6 and 10 Published by International Guild of Occult Sciences 1994 
Magus Ritual Magic Vol. 1-4 6 and 10 Published by International Guild of Occult Sciences 1994
Published by the International Guild of Occult Sciences
Started in 1993 and since disbanded, "1993, in its present non-profit form. An "outgrowth" of, and houses the secrets and knowledge of: an ancient Guild set up in the 1400s, Denmark".
The aim of the group was .."Act as a teaching, research and manufacturing organization for all occult sciences, including alien abductions, astral projection, astrology, demonic spirits, divination, exorcism, ghosts, haunted houses, healing, herbs, levitation, magic from all traditions, martial arts, meditation, mythology, PSI devices, psionic magic, psionics, psychic powers, psychic warfare, radionics, ritual magic, runes, shamanism, sorcery, UFOs, Voodoo, witchcraft."
Broken up into 11 lessons, the Magus Ritual Magic was a course in ceremonial magic.
The course available are, Volumes 1-4, 6 & 10
All the books are hardback and are in near perfect condition with two being still in the plastic protective bag.
Condition: Near perfect, light marks at corners from storage. Please see the images for more details.
If you have any questions or need additional information, please feel free to contact me.
Noted:
Over seas buyers please email me for shipping quote, please provide me with a shipping address and postal code.
Detail photos Click to enlarge