⬅ Return to collection
1st Edition : Modern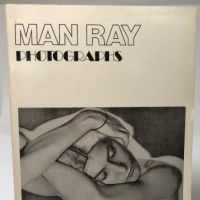 Man Ray Photographs 1920-1934 Published by East River Press Softcover Edition 1st American Edition
Man Ray Photographs 1920-1934 East River Press 1975 1st American Edition.
Title: May Ray Photographs 1920-1934
By: A.D. Coleman
Published by: East River Press, New York
Year: 1975
Softcover edition, a preprint of the original 1934 Paris first edition

Man Ray, the artist who was contemporary of Marcel Duchamp, Jean Arp and countless French Dada artist of the early 20th c. Man Ray moved to Paris before the war where is painting career was growing but it would be his photography that brought his fame and recognition. His photographs had a sense or sensuality and that carnal appeal to his mages. He use of experimentation of the photography showcased an artist who wanted more out the art form. Many of the his fashion photography was shot for Harper's but when he applied alternative techniques such as solarization and laying images on photo paper and exposing them, calling them Rayographs, he moved photography into a new area of art.
This book is a 1970's reprint of the 1934 book and each of the images are printed with a technique that lends itself to his photos. The grain and soft printing shows the beauty in every one of the images, a great book that uses a long lost mechanical printing technique.
Size: 9 x 12
Condition: fine, the binding is tight with no loose pages. The soft cover is fine with slight soiling to the white. The bottom of the spine has bump but not damaging the binding. The back has slight soiling from age and shelf wear. Please see the images provided for a visual description.
If you have any questions or if you need additional images, please feel free to contact me.
NOTE:
The price quoted is for US buyers only. If you are an overseas buyer, please email me before purchase to get a shipping quote. Please email me your mailing address to get a shipping quote.
Detail photos Click to enlarge