⬅ Return to collection
Art : Vintage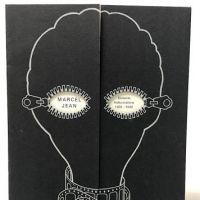 Marcel Jean Elements Hallucinations 1935-1948 Exhibition Catalogue for Gimpel, Weitzenhoffer New York 1971 with Note from Yvonne Thomas
Marcel Jean Elements Hallucinations 1935-1948 Exhibition Catalogue for Gimpel, Weitzenhoffer 1040 Madison Ave New York, December 1st-31 1971.
With a die cut center gatefold printed paper wrapper. 8 page exhibition catalogue for Marcel Jean.
Also included in the collection is a folded notecard invitation to the exhibition with handwritten note, message from Yvonne Thomas, abstract expressionist (1913-2009) to Babette Neberge
Marcel Jean is considered a surrealist artist, he officially joined the group in 1933. The exhibition catalogue has black and white preproduction of watercolors, drawings and paintings; 51 pieces being shown and offered at the private gallery in New York which was active from 1969-1991.
Thomas was a noted figure of the abstract expressionist of the New York scene, being one of the rare artist to be shown at all nine shows of the now legendary 9th Street Art Exhibition of Paintings and Sculpture. This show is considered the beginning of the recognition of the Movement, Abstract Expressionism in New York.
The Note mentions that Marcel Jean is staying with her and how he was a friend with Marcel Duchamp.
Size: 9 1/2 x 7 3/4.
Condition: very fine with very minimal signs of use. Collected and stored with care, no writing or damage inside and the black thick card stock is in excellent condition.
If you have any questions or if you need additional images, please feel free to email me.

Note:
shipping cost is for US only, if you are an over seas buyers please email me your shipping address to get a shipping quote.
Detail photos Click to enlarge