⬅ Return to collection
Art : 1900-1940s
This item has been sold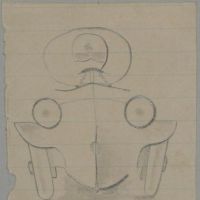 Mario Dobrkovsky Futurist Style Drawing of Man Driving a Car
Artist: Mario Dobrkovsky

A collection of over 500 personal drawings discovered in Prague, done by a young Medical Student in the styles of Cubist, Bauhaus and Modernist influence dating from the 1925 to 1932, prior to infamous Munich conference and the annexation of Sudetenland by Nazi Germany.
Outside of this collection, no other work by the artist is known to exist. This collection captures the turbulent period through the eyes of a young student/artist/scientist, with drawing he illustrated a wide range of emotion, humor, cunning and curiosity. Some works are on scraps of paper then mounted to color paper. Others are intermingled with school assignments but each piece is a small masterpiece.

In this satirical modernest drawing, Dobrkovsky bring us closer to the Futurist's aesthetics and a subject that they loved to showcase, the speeding car.
Here the driver is coming straight to you in this aggressive pose. The car racer drives a Citron and has the Tatra logo on his helmet.
The drawing is not signed or dated and is mounted to a gray heavy weight paper.

Size: 4 x 3.25
Condition: fine

If you are interested in more of these drawings, please visit the Berlin Zoo Section of my website.
Detail photos Click to enlarge