⬅ Return to collection
Art : Historical Memorabilia : 1900-1940s
This item has been sold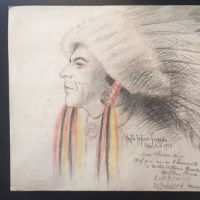 Marthe Antoine Gerardin Drawing Signed Of Chief Elaine Blaire Inscribed In Sioux 1923 Paris
A wonderful profile portrait of Chief Elaine Blaire during the Wild West Show in Paris, signed and dated by the artist and inscribed by the subject in English as well as notation in Sioux written language.
Signed by Marthe Antoine Gerardin (French 19th-20th Century artist)
Subject: Sioux Native American, Chief Elaine Blaire (possible translation from the the inscription on the page drawn by the artist)
Sioux Indian langue written out, most likely by the subject, please see images for details.

NOTE:
"Written Sioux: The first alphabet for Sioux, known as Riggs, was devised by the missionaries Samuel and Gideon Pond, Stephen Return Riggs and Dr Thomas S. Williamson in 1834. They based their spelling system on the Santee dialect (Dakota) and used it to translate biblical texts into that dialect. The Dakota translation of the bible was well known and used among the Dakota and Lakota.

A revised version of this system was used in Riggs' Dakota Grammar, published in 1852, and in his Dakota-English dictionary, published in 1890.

From an online source: "As a society artist, later also working in Amsterdam, and traveling between Paris and the Netherlands she must have visited Buffalo Bills (Bill Cody 1846-1917) Wild West show drawing the portrait of Lone Bear (1877- after 1940) in 1923.

Size: 14 x 10 1/2 Inches
Condition: Fine condition with minor soiling.


If you have any questions or need additional images, please feel free to contact me.
Detail photos Click to enlarge