⬅ Return to collection
Art : Lithographs : 1900-1940s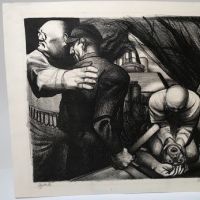 Marxist and WPA Era Artist Victor Szucs Lithograph Vigilantes Signed Dated and Titled in Pencil 1939
WPA Era Lithograph Victor Szucs 1939 Pencil Signed and Titled Vigilantes
Victor Szucs was a New York Artist who was part of the WPA Era and the Marxist Left. His art, like most WPA artist had a socialist ideal and subject. The focus of the government sanctioned effort was to put all back to work to help pull no only industry but the arts out of the Depression. During the Depression, the wealthy who were lucky enough to keep it, worked hard to subjugate people, forcing many to work longer and harder to make just enough to get bread or small food supplies. We saw, gangs, corruption and violence in cities across America, desperation was a constant in most families. Many artist, Szucs included joined and supported the Marxist theory of Unions to help protect the workers of America. Our most famous and beloved musician Woody Guthrie not only wrote songs of protest but wrote songs of struggle from this time.
The Art of Victor Szucs was in the same mindset, his art was the representation of what he saw and what he wanted, must like Woody. In this lithograph dated on the lower right in pencil 1939 shows a man with a Strike sign being thrown to the ground and strangled while the large rich man pulls another man to avert his gaze away from the beating of the Striker. A powerful image and in the same style as William Gropper, Otto Dix and George Grosz in Berlin.
A Striking and bold document of our times, a great WPA era lithograph.
Medium: Lithograph
Year: 1939
Artist Victor Szucs
Signed Dated and Titled in Pencil
Also signed in the litho stone, lower right.
Size: 11 1/2 x 14 1/4 inches
Condition: Near Fien with slight soiling below the signature on the right. No rips or other damage. Please see the images provided for more details.
If you have any questions or need additional images, please feel free to contact me.
The item is framed behind glass and the price is for shipping with the glass, for safer and cheaper shipping I can remove the glass, please email me before purchase to get a new price on shipping.
NOTE:
Shipping is for US only, if you are an international buyer, please email me with your mailing address to get a shipping quote.
Detail photos Click to enlarge