⬅ Return to collection
Art : Medical & Oddities : 1900-1940s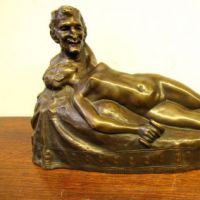 Max Drah 1920 Signed Bronze Drunk Woman Embracing The Devil Foundry Mark Wein MNF
Max Drah was an Austrian sculptor who was born in 1879 but mysteriously no one knows the year he died. Several pieces of his are well known but the artist has been in the shadows of biography and along with his full catalog of art. Many of his pieces are the typical neo classical nudes but this particular piece has elevated its stature to early 20th c. erotica and fantastical elements, which are associated with the Art Deco and Art Nouveau movement. Both of these art styles dealt with occult, taboos, mystical and fanciful subjects such as drugs, devil and mythological stories.

This piece fits in the subject of drugs/ taboo and the occult. The woman reclines nude with her emptied glass of alcohol, most likely the absinthe causing her to hallucinate and have the devil appear behind her. As the devil appears, she sensually embraces his presence while her hand grasps his head.

The bronze is marked "Drah 1920" with a small mark of the foundry, MNF Wein Bronze, please see the photos of both of the marks.

Size: 15" long x 8 ½" high
Condition: VG with minimal wear to the Patina. Minor bumps under the woman's breast.

If you have any questions or need additional images, please feel free to email me.


Detail photos Click to enlarge