⬅ Return to collection
Historical Memorabilia : Mid-century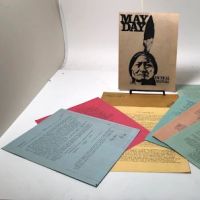 May Day Protest Collection from 1971 Includes Original Printed Pages Tactical Manuel and Envelope Rare Collection
A rare collection of American counter culture history. A packet with original envelope and pages outlining the planed May Day Protest of 1971
The May Day Tribe:
"A group known as the "May Day Tribe" was formed: it was made up of Yippies and others among the more militant members of the anti-war movement. It was decided that small groups of protesters would block major intersections and bridges in the capital, under the slogan, "If the government won't stop the war, we'll stop the government."

The 1971 May Day Protest is one of great antiwar protest in America. The protest was against Nixon and his war agenda he pushed. Nixon's known hate and targeted attacks on civil liberties of minorities and counter culture movement can't be understated. His "secret" tactics against the Black Panther movement, destroying any gains in civil rights before his destructive adiministration is heart breaking and for many, it fulled the on going protests across the country.
As vietnam ramped up, Nixon's idea of draft and sending kids over to fight his war while addressing the counter culture movement problem, send them to war to die will reduce the problem!
On May 1st 1971, a protest in DC was organized to protest the Vietnam war.
"The 1971 May Day protests were a series of large-scale civil disobedience actions in Washington, D.C., in protest against the Vietnam War. These began on Monday morning, May 3rd, and ended on May 5th. More than 12,000 people were arrested, the largest mass arrest in U.S. history.
Members of the Nixon administration would come to view the events as damaging, because the government's response was perceived as violating citizens' civil rights."
Back in 1971, a recently organized group calling themselves The May Day Tribe, help this grass roots protest grow and coordinate for the protest and this original Envelope contains the packet mailed out to a recipient!
The collection includes:
*Original Envelope with Stamp and a USPS mailing stamp of April 1971 to a person in Maryland. ( I have blocked out the recipient for the internet)
*May Day Tactical Manual, a 24 page printed newspaper print. Page 2 has the map of Washington DC. The next four pages outline the reason, need and what to expect from the reactions of the police and movement to the protest also outlines of the days of protest and what the mission. This was important to the planed disobedience scheduled.
*Mayday: Vietnam Must Live (2 pages stapled) a outline of the mission and statement of the Protest but also altering to how the government was attacking the anti war protest.
*Preparation Process, altering people to bring noise makers to bring attention to the protest as well as telling people of "medical people" on hand to help with hygiene and protest medical care. On the back has a section for "child care" and numbers to call for the safety and protection of children who are brought"
*An Emergent Event- A Communiversity, an announcement of seminars on educating people on various related topics.
*Nonviolent Training Program for The Spring Offensive and May Day by Carl Zietlow. A call for None Violent action and how to train and prepare for what the police may be doing to any and all protestors.
* 5 Target Training Centers for The People's Lobby
*Outline of health and self care for the protest, giving tips on vitamins and herbal supplements
Condition: Very Fine with the pages having slightly aged but no visible damage. The collection has been stored for years since it was mailed in 1971. Please see the images for more details.
Detail photos Click to enlarge