⬅ Return to collection
Art : 1800s
This item has been sold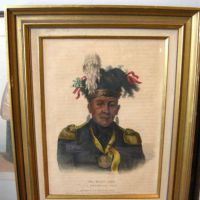 McKenny Thomas Hall Wa Baun See Pottawstomie Chief Folio Plate Pub by F W Greenough Lithograph
McKenny Thomas & Hall published a Folio series called History of the Indian tribes of North America published [E. C. Biddle, 1836-1844].
The images have become famous for their early documentation of some of historical tribes of the Indians of North America giving us a lasting visual documentation.
This image is of Wa-Baun-See, a Potawatomie Chief, and according to internet sites: "Waubonsie (c. 1760 – c. 1848) was a leader of the Potawatomi Native American people. His name has been spelled in a variety of ways, including Wabaunsee, Wah-bahn-se, Waubonsee, Waabaansii in the contemporary Ojibwe language, and Wabansi in the contemporary Potawatomi language."
This full color lithograph is an original and published by F W Greenough in 1838.
Size: image size approx. 11" x 17" and frame size approx. 15.5" x 20"
Condition: edges are chipped and some very slight foxing on the the paper. The paper is slightly stained with horizontal lines. Very minor and can be restored. Please see the photos for a visual description.
If you have any questions or need additional images, please feel free to contact me.


Detail photos Click to enlarge