⬅ Return to collection
[uncategorized]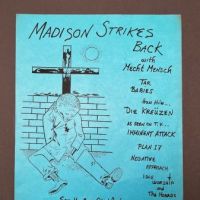 Mecht Mensch Tar Babies and Die Kreuzen Negative Approach Sat. May 8th (1982) Olin Park Madison Wisconsin
Mecht Mensch Tar Babies and Die Kreuzen with Imminent Attack Plan 17 and Negative Approach Idle Worship and The Nomads (1982)
Sat. May 8th at Olin Park Outside show.
Attached is a photo of Imminent Attack from the show at Olin Park. image is from the client's collection and was used by permission.

Mecht Mensch and Tar Babies, two Maddison Wisconsin bands along with Die Kreuzen, only around for about a year when they played this show.
Imminent Attack was another Madison band who started in 1981.
Also on the show was the great Negative Approach from Detroit.

Madison, the weird town that seems to gravitate to German band names and art, two of bands take their name from German and the flyer, which I love by the way, uses a George Grosz image. Grosz was a German Dadaist and was ion staunch opposition to WWI and his art had many anti-german drawings mocking the German government.


Size: 8 1/2 x 11
Condition: near perfect and in very good condition. Please see the images for more details.
If you have any questions or need additional information, please feel free to contact me.
Noted:
Over seas buyers please email me for shipping quote, please provide me with a shipping address and postal code.
Detail photos Click to enlarge