⬅ Return to collection
Medical & Oddities : 1800s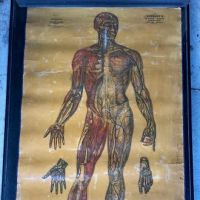 Medical Pull Down Chart Plate 5 Lambert's Pictorial Anatomy Sanborn & Carter Portland Main Human Body Circulatory System Printed by E. Michelin New York Printer
Medical Pull Down Chart Plate 5 of Lambert's Pictorial Anatomy Human Body Circulatory System Printed by E. Michelin New York Printer
Thomas Scott Lambert 1819-1897 was was an American physician who wrote numerous books and lectured on the human anatomy and medical procedures till his death in 1897.
His anatomy book, originally published in 1851 became extensively used in American do to his lecturing. This image was used and taken from his 1851 book, Pictorial Anatomy.
The use of the pull downs, anatomy charts were used for eduction and studying. The fine details of the anatomy of Lambert would have hang in a class or was used as a teaching aid for a medical student or professional.
Republished from Bougery and Jacob, Paris
Printed in Colors by F. Michelin 180 Fulton St.
The paper is linen backed from the the original production and has a varnish and or lacquer over the paper, which is the yellowing that has occurred. Minor marks from age and use and some cracking to the paper in areas and has some abrasions.
None of these are ever in good condition since they were used in schools or as teaching aids.

Size: 22 x 36 1/2 Inches
Condition: Fine with some cracking to the paper and the varnish is yellowed and abrasions on the pulldown. Missing the lower wood rod and some chipping at the edges. Please see the photos for details and for a visual description.

If you have any questions or need additional information, please feel free to contact me.

Noted:
Overseas buyers please email me for shipping quote, please provide me with a shipping address and postal code.
Detail photos Click to enlarge